Can you name a business that's been able to sustain itself since the year 1264 without changing directions, without corporate buyouts, without bankruptcy? I can. Even better yet, it's a business we've written off after making hapless stabs at going "paperless". Yes, I'm talking Cariere Milani Fabriano, the oldest continuously operated paper mill in Europe. It's still going...and you can visit.
The declaration on Fabriano's About page may tickle your intellectual fancy. Once upon a time, in lands far away...:
The invention of paper is traditionally attributed to the Chinese, but it was actually the Arabs who, after having learned the rudiments of manufacture and made a few improvements, spread the new product throughout the west. It was a long, arduous process that was completed in the second half of the 13th century in Fabriano, a little town of the Marche inland. The reason for this location, which made Fabriano the most important paper production centre of Europe, is very probably linked to the vicinity of Ancona, a port that was particularly open to trade with the Arab world.
So Fabriano eventually got a chance to improve upon the Chinese/Arab process--and they didn't stumble:
Cartiere Miliani Fabriano claims to have innovated three techniques which are still a part of papermaking today: the identification of papers using watermarks, the hydraulic hammer pile for pulverizing the rags, and gelatin sizing to strengthen paper and render it more receptive to ink and paint. ~ Fabriano
What does this have to do with tourism? Well, you can visit the Paper and Watermark Museum of Fabriano and see how how paper and watermarks have evolved over the years into high-tech security mechanisms embedded in paper checks and banknotes. It's all quite fascinating--and the town itself is a rather interesting bit of medieval architecture and town planning. You can spend a whole day discovering the religious version of history in the many churches. There's an old pharmacy where you'll be welcomed by a carved wooden statue of a bare-breasted warrior woman carrying a big stick. There is one of those little baroque theaters, cute as a pin. If you were looking for an off the beaten track destination in which to stay for a week and explore, this might be the place.
But let's start with the watermark. When watermarked paper is in front of you, resting on a table for example, it appears as a rectangle of pure, unadulterated whiteness. But then, hold it up to the light.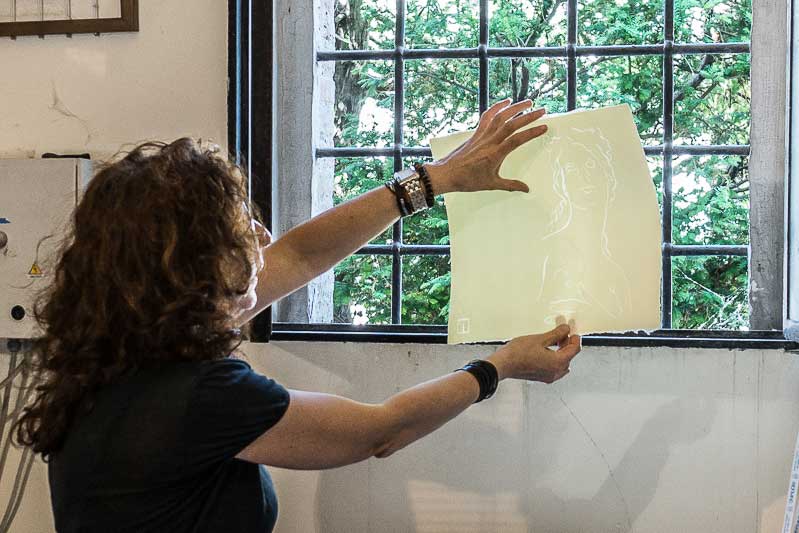 How do they perform this trick? First you take a bit of wire and shape it into filigree designs, then attach it to the mesh of the paper molds: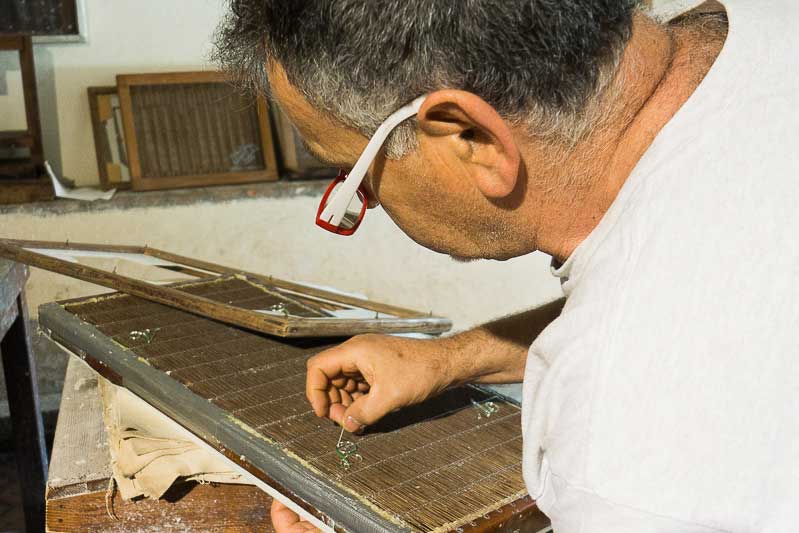 Then you dip your mold into the vat of vegetable fibers, the "liquid paper" you will press and dry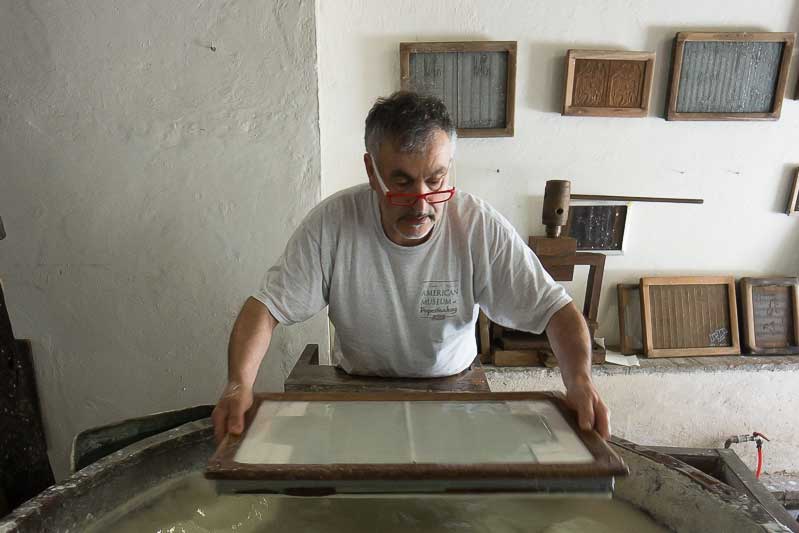 Here it is wet: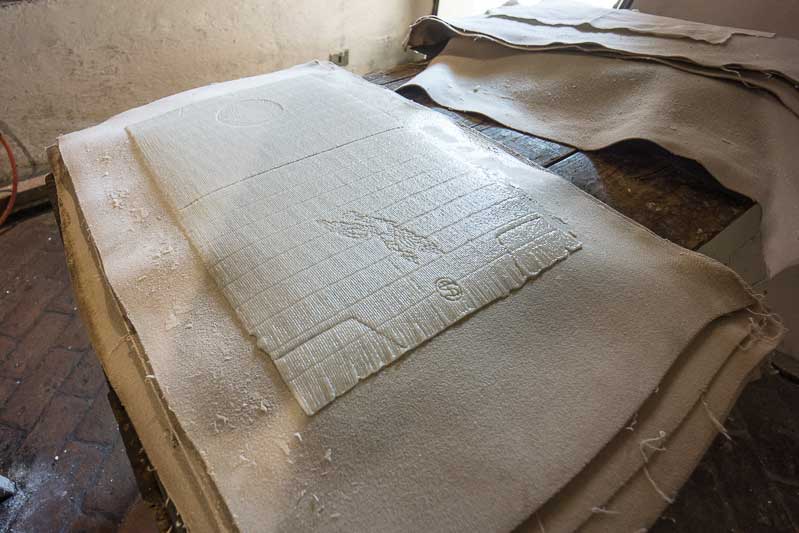 And thus, after pressing and drying your sheet, you have made an artisinal paper with a wire watermark, the wire making the paper almost imperceptably thinner where it pressed into the wet pulp.
There isn't a consensus on what the earliest watermarks were for. They could have been to identify particular paper, or the manufacturer, or, in the service of kings, to convey a secret message or, more likely, to prove the provenience of the message. Watermarks eventually became used to mark different types of paper--or different batches. Remember that the 13th century was a time of Religious pilgrimage, and Romanesque churches of the times were full of carved symbols because few of the faithful could read. In that context, a symbol rather than a written message would be much more useful to the common worker shuffling paper around the known world.
In any case, if you were to make a more three-dimensional mesh and attach it to the paper mold, you could get some delicate shading in the image. By the 18th century, Fabriano was noted for a sort of watermark art with amazing image quality, like the one you see to the right of Italy's most popular politician.
Fabriano Paper Mills makes a variety of art papers, including some with artichoke fibers (an experiment--yes, you can smell the paper). They also print currency, banknotes. They sponsor events and workshops.
Visit. See how far the simple watermark has come. See how a 750 year old company can thrive.
---
[To read more about how these simple watermarks evolved into security devices to make banknotes and checks difficult to counterfeit, see Watermarks.
To see a map of Le Marche showing the location of Fabriano, see: Le Marche Map and Guide.]