The world is collapsing. Have you noticed? The common man and woman commands nothing but the buttons on the TV remote. Perhaps we are on our way toward a new set of dark ages. Or we are already there.
Do you feel the despair? Do you feel monastic walls closing in on you?
Then come to Italy and learn skills to get you through it.
When the roads collapse into sink holes it is a sign. When automobiles finally become useless burdens in a broken world, then what you need is a beast of burden, no? A beast to fall back on. A beast who doesn't mind a balanced load. A hairy animal with big ears to love.
Come to rural Italy. Learn to "drive" a donkey. It will prepare you for the upcoming apocalypse.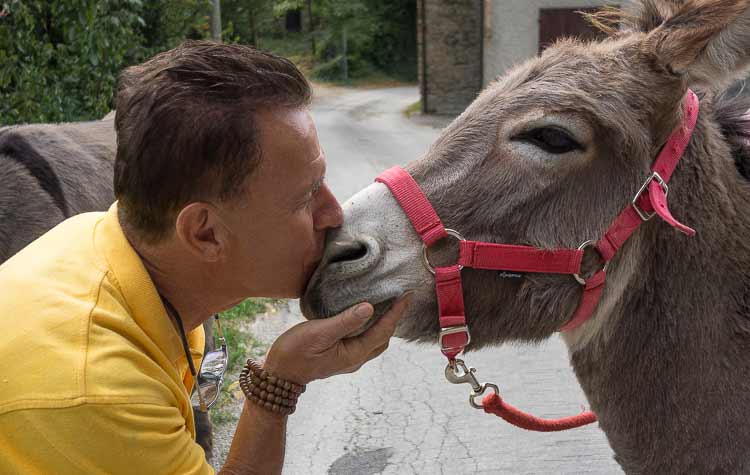 You may think I'm kidding, but your humble scribe has learned the basic psychological nuances of the noble animal called "asino" in Italian and "donkey" in proper English. I possess a donkey driver's licence, suitable for framing and, most importantly in this context, I had a fantastic time acquiring it.
The picture shows Giovanni Alessangdrini. He is a part of the brave, new world. He as disconnected from industrial "food" and the idea of working ever harder for ever fewer rewards. He now raises donkeys. He raises them so that you can experience them. You can take the ropes and let the donkey lead you around. You can occasionally request the beast to stop eating and move in a direction you want him to move. The donkey tells you his desires to move or not to move by the position of his ears. Yes, if you take Giovanni's donkeys for a spin, you will learn their ear-language.
The hee-haw thing is just a ruse. A song of songs.
If you make the trek to visit Giovanni, you will run into his bloodhound. You will also see the pit in which he ages his cheese. You will eat his aged cheese and drink his wine. His new life, and your temporary one, is kilometer zero all the way.
Perhaps you will come to think, "this dark ages isn't so bad after all."
Giovanni's donkey empire, called Il Pagliaio, is found in Romagna, the eastern half of the Italian region of Emilia Romagna. You reach it by a scenic drive. You will feel your big-city worries drain as you wrestle your rental car around the erotic curves of the territory. Then, purged of modern delusions, you are ready for the donkeys.
Go for it.
Il Pagliaio
Loc. Monte Finocchio
Strada Provinciale 128 Sarsina-Ranchio
47025 Mercato Saraceno (FC) – ITALY
Coordinate GPS: 12°07'59"E 43°56'51"N
Tel.: +39 335 5315580 (English spoken!)
Wait, There's a Tuscan Donkey Option, Too
If you were to head north from Renaissance Tuscany, you would come to a rural territory called La Lunigiana. It's where I spend nearly half a year. If you want to eat very, very well in a very small village and learn about donkeys, then the Agriturismo Luna di Quarazzana is just what the doctor ordered. It looks like this in springtime: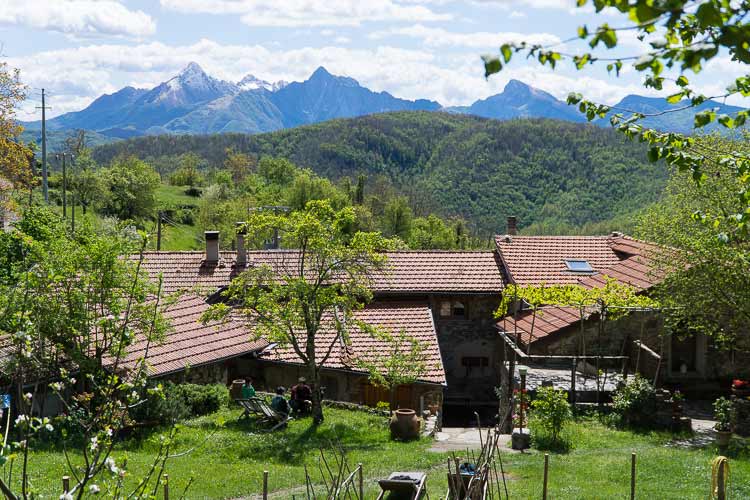 In case you're wondering, those jagged mountains you see, the Apuan Alps, mark the start of the marble mountains of Massa and Carrara.
Ilaria is your host. She speaks English perfectly. Her agriturismo is a historic building in a small village which seems deserted when you first trundle down the raggedy road to explore it. Then you notice the barn with a cow. Then dogs bark. Then you realize the town is not deserted at all.
Here the donkey trail isn't down paved roads as was the Il Pagliaio itinerary. It takes you over hill and dale. Once you have guided your donkey over the course, you will be hungry.
Lucky you. Ilaria will make you a fantastic dinner using the organically produced products from the farm and her grandmother's recipes. Then you can sign your Donkey license.
Your kids will love it. Really.
La Luna di Quarazzana
Tel: +39 - 331 - 3111202
Contact page