Wine tourism. If you're not fond of quaffing the squeezings of the grape, you probably don't get why people would take time out of their busy museum schedule to visit small-scale factories devoted to making wine out of a God-given raw material, the grape. I'm going to help you out here.
Wine has a history. Wine likely helped the Romans conquer their known world. They made the effort to transport the stuff everywhere they went--meaning they didn't have to drink the retched water of their hygienically-challenged enemies. An army travels on its stomach you know.
Besides a long history, as Pope Francis recently pointed out, wine makes the feast, and thoughts of a feast are what many tourists travel for.
"Wine is necessary for the feast," Pope Francis said, and pointed to how Jesus, in turning the water into wine, makes "an eloquent sign," because "he transforms the Law of Moses into the Gospel, bringer of joy."
Yes, let's not forget, where there's good wine there's also good food. Feasting spreads joy. We like joy. Not so many people mow down strangers with the noisy regurgitation of an AK-47 when they are feeling joy.
You can eat very, very well in Piemonte and in the Chianti Classico, Italy's top wine producing areas. The latest "hot" wine on the scene is Bogheri, the land of the "Super Tuscans". The medieval village of Bolgheri is today almost entirely crammed with fine food restaurants.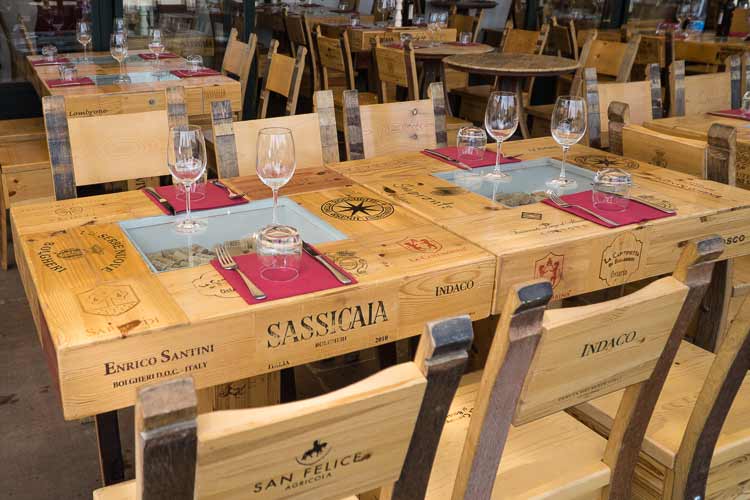 Wine is also political. In 1963 the Italian Parliament adopted the Denominazione di Origine Controllata law, followed in 1980 by the Denominazione di Origine Controllata e Garantita law, establishing rules and regulations for fine wines in Italy. You might not get these wines in your state because, well, maybe your politicians are idiots and don't want you to have any. It happens.
Wine is much different than Coca-Cola. The Coca Cola company spends untold millions on making the beverage you drink in Managua, Nicaragua taste exactly the same as the one you consumed in Cleveland. The Barbera wine made from grapes planted in California is going to taste different than the the Barbera of Piemonte. Terroir is the word winemakers use to denote how a particular region's climate, soils and aspect affect the taste of wine. It's what makes wine interesting.
Want to be brought back to the Chianti region? Just sniff some. Scents are evocative to humans because they pass through one fewer synapse than our other senses.
Relativity is evident in wine. Tourists want to know "what is the best" so they can go right to it and never suffer a second-rate experience. I am a cultural relativist. There is no "best" to me. For example, if you have had a hard summer's day traipsing through Athens and you clean up and head to a taverna in the cool of the evening and have something small to nibble on with a cold glass of retsina you'll feel restored in a way you wouldn't if you chose a $50 glass of some fancy Super Tuscan. On the other hand you you won't be tempted to tweet to the world that you've "just tasted retsina and it's gotta be the world's best wine" either. Want to remember your adventure in Greece? At the end of a random hot day set out some nibbles and a glass of Retsina (if you can find the rare elixir). That's all it takes.
And finally, you can drink history! Some of the best wines that Romans consumed came from around Pompeii. Recently the same grapes were planted near the ruins and you can drink a modern version of the ancient wine called Villa dei Misteri. (Interesting note, the ancient wine would have fermented in open-topped terracotta pots, called dolia. In the Alentejo region of Portugal, you can find Roman style wines called "Vinho de Talha" which are fermented in open-topped terracotta pots. There's even a competition to see who can make the best.
Folks are also making ancient wines in a vineyard in Mascali, near Catania in Sicily, using technical know-how gleaned from the writings of the poet Virgil, according to Nick Squires in Do as the Romans do: ancient winemaking techniques revived.
Enjoy your wine. We have tours to get you acquainted with grape squeezings from around Italy. Here are some celebrations:
Save