I like Rome. It's messy, but in a relatively good way, like shockingly erotic lovemaking--or trying to keep up with the melting of of your gelato on a hot summer day. The Romans made getting around difficult by stuffing their big, important buildings under metro tracks and other modern infrastructure just to demonstrate to future generations just who had the upper hand in the architectural achievement department.
Rome's summer temperatures make even standing still in the shadowy cleavage of the seven hills unbearable. You know that.
So you've got some time in Rome. If you're lucky, you've got lots of time in Rome. Of course, a great deal of Roman Rome is outside the walls.
Take Hadrian's Villa. The man was wealthy enough to know how to live the good life. When the temperatures rose, he just headed for Tibur--ancient Tivoli. In fact, he liked his villa so much that he pretty much moved the government there.
And why not? There was water in pools everywhere, and statuary in abundance.
Shouldn't you go and check this place out? After all, you can also see the renaissance era Villa d'Este with its Bernini fountains. It's a bonus.
You can spend an hour on the Roma-Pescara train in the direction of Stazione Tivoli to get there, and then look for the ruins. They're a bit far away, according to the map of Tivoli. But what would Hadrian have done if he was in your Nikes?
He'd have a private driver drive him from a comfortable place in Rome. You can too. The whole tour is just a click away: The Ancient Gardens of Tivoli.
What else is within a short trip out of Rome? Ostia Antica, Rome's ancient port before it silted up, is a worthy trip. It's not a pleasure palace for the rich, but a regular town. There were about 50,000 people living in Ostia during the Age of the aforementioned Hadrian, and you'll see everything from the public toilets to where they ground the flour and made bread. It's easily reachable on public transportation--a real bargain.
Near Ostia is the hexagonal port area of Portus, called "The Lost Port of Ancient Rome." You can take a class to learn "Learn how ancient artifacts, written evidence, excavation and digital technologies are transforming understanding of this harbour". Excavations are ongoing. There are new tours available of them.
"Portus was the maritime port of Imperial Rome between the mid-1st century AD and the 6th century AD. It was the focus of a network of ports and, together with the neighbouring river port at Ostia, it was the commercial hub that connected the city to the rest of the Mediterranean world. It played a key role in re-distributing imports from other Mediterranean ports to supply the city and, to a lesser extent, exporting products from the Tiber valley. It was established under the emperor Claudius, subsequently enlarged by Trajan and successive emperors into the 4th century AD, until its gradual decline in the later 5th and 6th centuries AD."
Women also sought refuge from central Rome. Along the Via Flaminia heading north, you'll come across Villa di Livia. Livia Drusilla, wife of the emperor Augustus, owned it with her family. It was a country residence from the Imperial age set on a promontory with a view down the tiber valley toward historic Rome. Underneath it all are the tunnels the help used to keep the villa going. You can see some of them due to American bombing during the War to End All Wars. A few rooms now found underground are very well frescoed: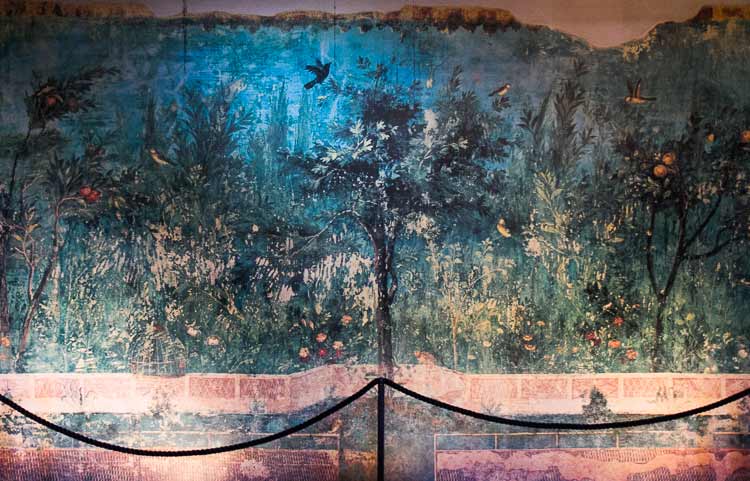 The train out of Rome will also get you to the Castelli Romani, where you'll find special places like Ariccia, the home of Italy's best stuffed and wood-roasted little pig, Porchetta d'Ariccia as well as the spectacular Castel Gandolfo, the traditional summer residence of the Pope named after the castle built by Genoese Gandolfi family. While you're in Castel Gondolfi, Have a bite to eat at Arte e Vino on Corso della Repubblica 49, and be sure to check out the grottoes filled with old tools and artifacts linked by caves under the restaurant and street.
Or head for Nemi, famous for its strawberries and for Caligula, who built some enormous boats to sit upon Lake Nemi. So large, in fact, they just about took up the whole surface of the lake.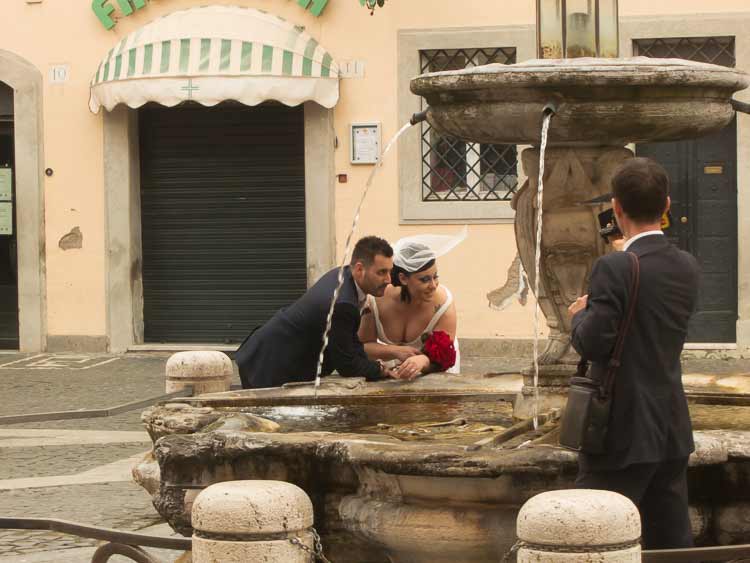 There are two rail lines out of Rome that will get you to the Castelli Romani: one goes to the wine town of Frascati while the other connects Rome with Marino, Castel Gandolfo and Albano. The area is also easy to get around in a car.
You can spend a lot of time in and around Rome. Don't be afraid to make your vacation Roma-centric.