Pitigliano, a Tuscan town hill town that seems to grow out of a tufa ridge, is known as "Little Jeruselem" for its once-hopping Jewish quarter. The town's jumble of houses lies on the boundary with Lazio, once part of the Papal States; Jews from Rome fled here during the Vatican's Counterreformation persecution in the 16th century, and you can visit a large part of the quarter today--the synagogue was restored in 1995.
Surrounding this compelling tourist destination is a web of "roads" called the Vie Cave said to be carved from the soft tufa by Etruscans. You can walk them, although it's not as easy as it seems. In the center of the road there is a channel, perhaps for the flow of water, and the sides slope almost imperceptibly toward the center channel, so the walker feels constantly off-balance. Still, people find it fascinating to follow the sinuous meanderings of these ways and the town has equipped them well. Many have picnic areas so you can participate in the Italian sport of eating while you let the history soak in.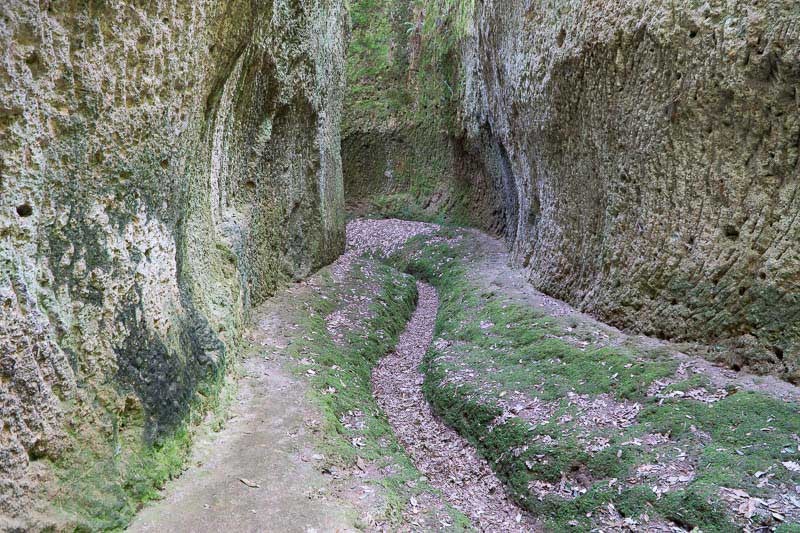 But Pitigliano isn't just about its ancient history. There are surprises here. Let me tell you of a couple.
Butterfly Man
We found Mackanzie Cooke lounging in a chair catching a bit of sun in front of his little museum. He perked up at our interest and ushered us into what I like to think of as his bug-infested lair. Each of the bugs was quite dead and pinned to a board, so we were safe from any fear of personal inundation.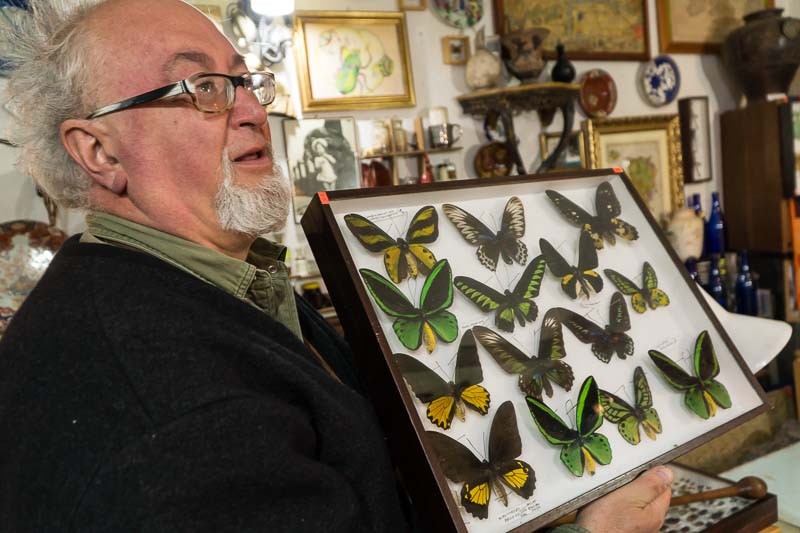 "How it works is this. You can take all the pictures you like. You can interrupt me to ask as many questions as you like. You can spend as long as you like looking around. At the end you pay what you like," said the man who spoke the Queen's English in the midst of a room loaded with insects pinned in neat little rows inside exhibition cases. He started off teaching us a bit about our own California butterflies and how the same species looked different when snagged in a butterfly net in Europe. He spoke with great speed and accuracy, indicative of a man who knows his stuff. Suddenly he slowed for dramatic effect: "Have you ever come across one of these?" he asked while pointing to a display of beetles the size of a shepherd's fist.
"I hope not," I replied.
His speech slowed to the pace a teacher would use to drive home a very big point, "Why?...They're perfectly harmless!"
Point taken. Still, I wouldn't want to find one in my bed.
Mr. Cooke had been very many places. The insects didn't have a chance. They were big, small, colorful, leggy and he knew them like the back of his hand.
Having settled down in Italy, Butterfly Man took to good food as he took to giant butterflies. Later that day we were perusing a restaurant menu and when we turned away we spotted him and his friends at an outside table of a bar. "That one's very good. A bit pricy. Just around the corner is Trattoria La Chiave del Paradiso, similar quality but less expensive," he offered.
"Where would you go?"
"La Chiave del Paradiso. Frankly, that's the only one I eat at now," he advised us.
So, of course we went. We ate well. The house wine is fabulous, the olive oil is produced by the owner, and the food is very carefully prepared. It was a great meal that didn't cost much. So please: take it from the man who has spent a large part of his life pinning giant but harmless beetles to boards, eat at the Key to Paradise.
Bread with pork cracklings and Sugar
When I hear someone in the food biz using the phrase, "un po particulare" I am immediately attracted to eating the peculiar foodstuff in question. We were searching for a breakfast thing. We ended up at the Forno 3P on Via Roma. We saw a flat bread glistening with crystals. What could it be?
Un po particulare, of course.
So you make a sort of focaccia and you put in there some pork cracklings. You bake the whole deal and while its still hot sprinkle some sugar on it. Strange? Pork Fat Sugar Bread?
It was delicious. They called it something like pizza di ciccioli, ciccioli referring to the tiny pieces of crisply rendered pig fat floating in the dough.
You see, during the depths of the years of immense poverty between world wars, some peasants rose up enough to actually be able to raise a pig on scraps. After slaughtering it in winter, they made strutto, rendered pork fat that they used for everything (you can still purchase it today). It added taste to the bland food of the (real) cucina povera, much more taste than bad olive oil. You make strutto by cutting the fat of your pig into small cubes, putting it into a pot over a slow fire and rendering the fat. What's left is the fried structure of the fat, which is then pressed in a press to extract every drop of liquid. The rest you can eat with a little salt, put in bread, or use as a crunchy taste element in your cooking. You didn't waste anything in those days.
Nor would you want to. pizza di ciccioli is a very tasty snack. Trust me. Here's how to make it (in Italian). Here's a video showing how they make the ciccioli.