Looking for something different on for your next Italian vacation? Certainly you've heard of Ferrara, a city that has at its center a fabulous Este Castle and a unique Cathedral displaying layered time periods like a proper cake or archaeological excavation; the older Romanesque on the bottom and Gothic above, all very orderly. A Renaissance city noted by the UNESCO folks for its forward looking planning, Ferrara's center hardly deviates from its original configuration, even in the age of the SUV parade as the shimmering snake of them waddles through the streets waiting for inattentive things to bounce off of.
If it wasn't for the occasional mosquito, Ferrara is so perfect that the orderly city might seem to lack that certain vibrancy that comes from the uncertainty of one's safety. Cyclists young and old seem to gather haphazardly in front of the Cathedral and yack a great while before dispersing to various cafes. You'll notice people kissing. They do that in Ferrara more than in any other Italian town I've been in. Yet nobody calls Ferrara a particularly romantic place to lock lips. They divert you to Venice for that. It's just to the north.
There are frequent festivals in Ferrara to liven things up. The Palio di Ferrara, held in May was first noted in 1259 and that makes it the oldest of its kind in Italy. There is also some very unique food, including a macaroni pie called pasticcio alla ferrarese and a sausage that you cook a long while in water until the thing breaks down and makes its own gravy so you can serve it over a big pile of mashed potatoes, which your neighbors will never agree sounds like Italian food to them. Salama al Sugo rocks--if you like that sorta thing.
I propose an interesting itinerary based on UNESCO world heritage sites that doesn't have a lot of distance between interesting places. Stay in Ferrara, and make a clockwise circle: Comacchio, Ravenna, Forli, Bologna. You can stop in Chioggia if you wish (I would) and you still will see a wildly diverse collection of sites without having to visit the gas pumps more than once.
Why Comacchio? Well, it's part of the same World Heritage inscription as Ferrara: Ferrara, City of the Renaissance, and its Po Delta. You head for the coast and in 50 kilometers you'll find a little Venice; Comacchio is formed of islands and has Venice-like canals.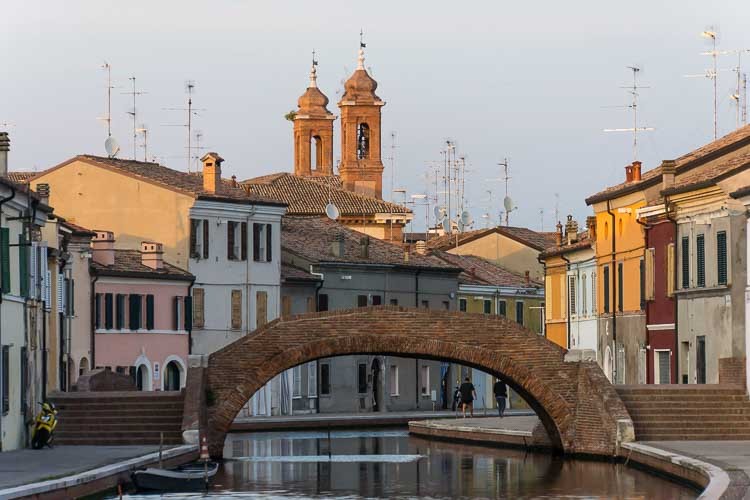 Comacchio exploited its place in the delta, employing fishermen to corral and catch squirming eels, then marinating, cooking, and finally canning them. You can take a boat into the wetlands, loaded with birds, and learn all about the fishermen and their ways. It's quite an interesting trip. Then you can visit the Manifattura dei Marinati, the factory in town where it all took place.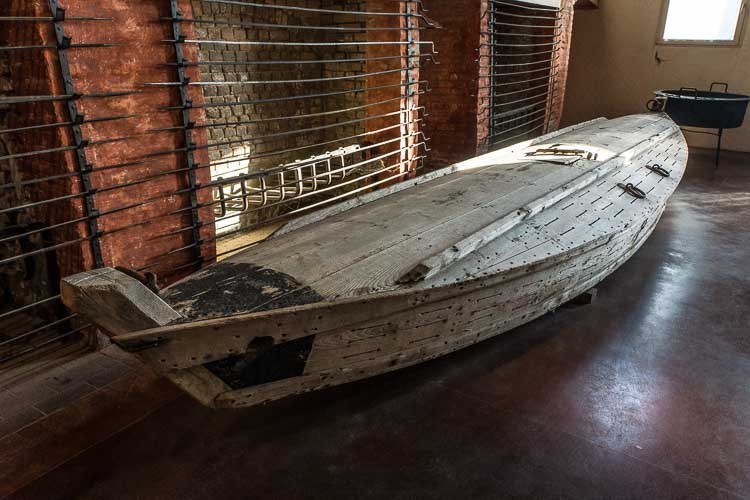 But that's not all. A Roman boat was found in the Lagoon, and a museum was built in Comaccio so that you could gawk at it.
If you want to stay and take in the calm of this little delta town go ahead. But you're free also to head for Ravenna to see the famous paleochristian mosaics. Almost everyone with a web site has pictures of them, so I won't strain your computer shoving pixels at you that you've seen before. You can see most everything in Ravenna in a day or two.
Then, if you wish, the town of Forli is an interesting stop, especially if you're interested in the Routes of Modern Architecture in the Fascist era or as it's called in some circles Mussolini Deco. (If you're really into Mussolini, you can visit his birthplace and final resting place on a day trip from Forli to Predappio.
If you have a place in your heart for peace, tranquility, Romanesque architecture, great food and a local wine you probably haven't heard of, you can include a visit to the Abbey of Pomposa, just 50 km from Ferrara.
And then it's on to Bologna, where UNESCO celebrates the famous porticos. Don't worry if it rains, you don't ever have to go outside unless you're crossing a street. (There are 38 kilometres of porticoes build between the 11th and 20th centuries.) Climb a medieval tower briskly and you'll be able to eat even more of the famous cuisine of Italy's gastronomic capital.
Here's the stats for where you've been:
Ferrara to Comacchio: 50km
Comacchio to Ravenna: 39km
Ravenna to Forli: 29km
Forli to Bologna: 73.5 km
Easy, eh? Enjoy the Eastern Emilia Romagna.